In a recent workshop held by Highly, the group came up with several brand tactics to build brand credibility. We looked at several ways a business could grow brand awareness and attract more customers. In this blog, we discuss branding and credibility, and how they can create good first impressions and keep customer coming back.
What is a brand?
Branding can be described as what you see, what you think and what you feel about a business.
For us at Highly, a brand is all about how your customers see you and your business. From your name, logo, history, vision, personality, values, to how your staff engage with customers. It can simply be a gut feeling a consumer has about you.
The number of small businesses we have spoken to recently are realising that branding is essential no matter your size. It is a promise of an experience which creates a connection with your customers.
What is credibility?
Being trustworthy, believable and honest are core traits of a credible business. But, it can easily make or break your business reputation.
For any business, being dependable and operating with integrity can define you. Respect can be earned by building credibility.
How can brand credibility attract more customers?
Brand credibility can improve business performance. It can increase brand awareness to aid recruitment, drive traffic to your website, attract customers and close sales. Best of all, because it can create positive word of mouth.
Over time, your service delivery and credibility will create an emotional connection. This can help make sure your customers keep coming back.
For a new or small business, growing your credibility can be challenging. So, it's the best way to fight competition and place your business in the best light.
What can you do to make your business more credible?
In the graphic below you will see the list of responses we had from our workshop group. Credibility can mean different things to different people.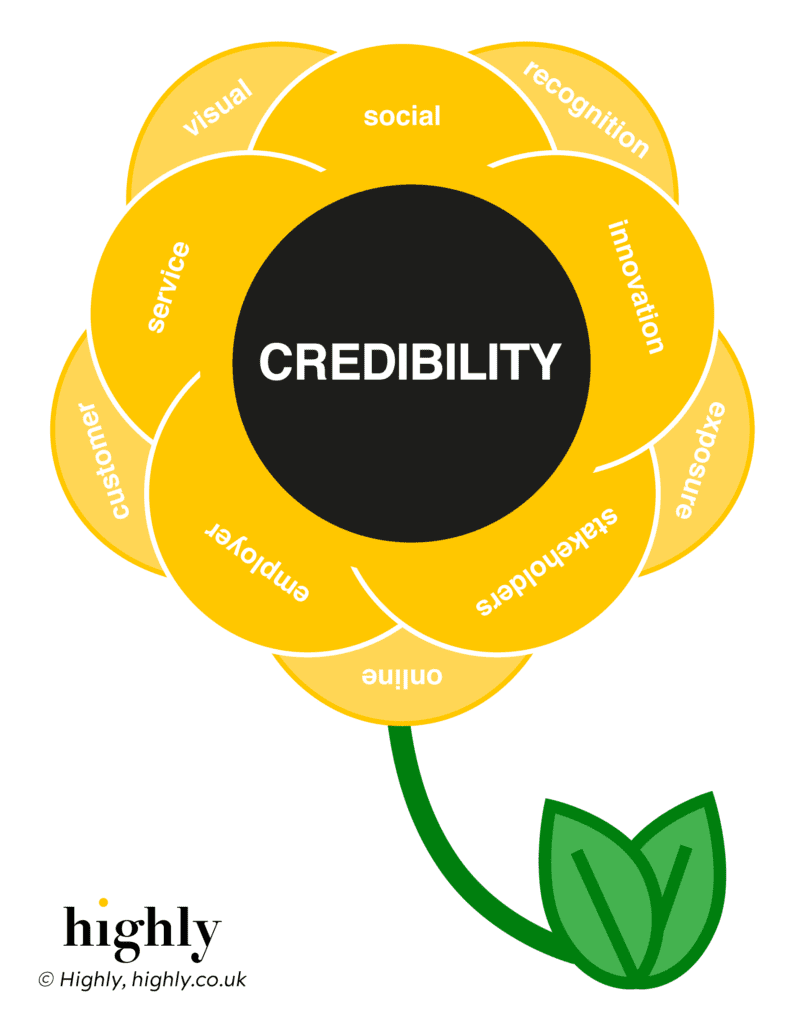 The list is a long one, but we have zoomed in on a handful of brand credibility tactics that can help you and your business:
Look good – The quality of your logo, visual elements, marketing material, working environment and even uniforms can leave a visual imprint that creates an impression.

Happy customers – Positive customer relationships can make a customer feel good. This can include customer care, value for money and a courtesy call.

Online presence – A good and active website and social media creates online presence. If your customers can easily find you, your contact details and services easily, it all builds credibility and trust.

Go public – Put yourself or colleagues forward for public speaking engagements, workshops, interviews or press coverage, because it can raise your public profile.

Be proud – Entering awards, being shortlisted and winning accreditations can all add up to creating a very credible image for your business.

Social impact – The environment, communities, local charities, social enterprises and going green are all topics high on everyone's agenda. Looking at how you can make a difference, will help your business.

Good at what you do – Recruiting qualified and committed individuals will impress customers. Raising standards and delivering a consistent service will raise your credibility.

Good employer – Look after your employees, their well being and working environment, because it can have a positive effect on how your employees feel about you as an employer.

Who are you dealing with? – Selecting your business partners from suppliers, associates, board members to distribution is important because it can affect your integrity.

Innovation – Being ahead of the game and looking for solutions to improve products and services, can demonstrate that you are a forward-thinking organisation.
Brand credibility is so powerful
Brand credibility is a powerful tool, because it can influence a customer's perception, create a good first impression and trigger a purchase. Working on your business' credibility can add long term value and success.
So, how's your brand credibility looking? If you would like to find out more, get in touch with a member of our team.